64. Of the High Ward at Two Rapiers
Presupposing always, that either hand is very well exercised, aswell in striking as in defending, this ward shalbe framed after two ways, which yet in manner is all one. The one with the right foot, and the other with the left, so working continually, that the hind arm be aloft, the former beneath in manner, as when the low ward is framed at single sword. And as a man strikes, he must always maintain and continue this high ward, which at the two rapiers, is the most perfect and surest and he may easily perform and do it: for whilst he enters to give a high thrust with his hind foot, although that foot be behind yet it must accompany the arm until it has finished his thrust, and settled itself in the low ward. The other sword and hand (which was borne together with the former foot in the low ward) remaining behind by reason of the increase of the high thrust, must presently be lifted placed in the same high ward.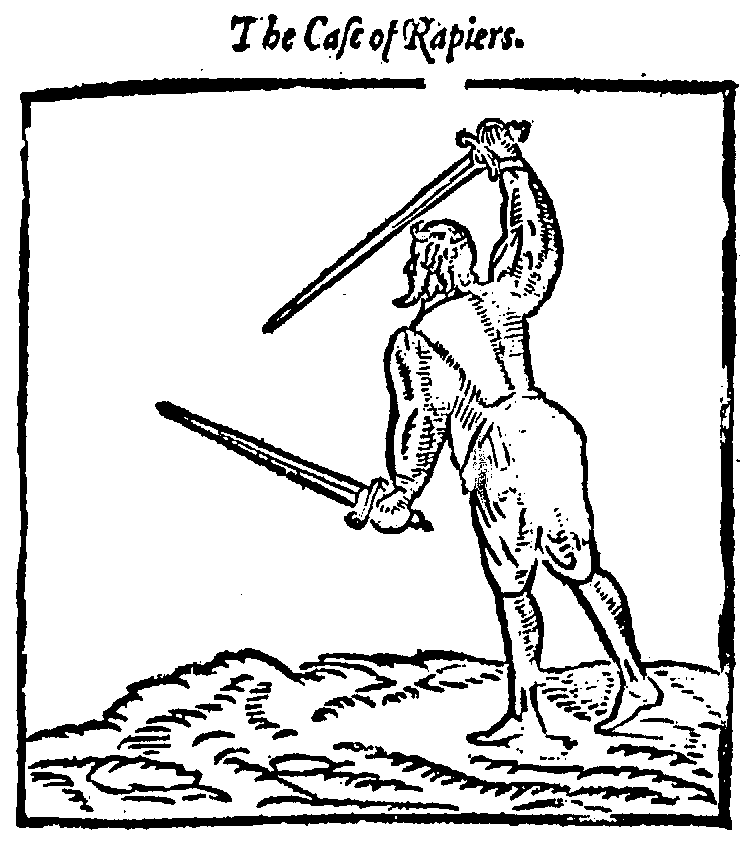 Therefore it is to be noted, that whosoever means to shift from this ward and strike, whether it be with his right or left foot, before or behind, it is requisite that he stand without, and when he would strike, he shall first prove with his low sword, whether he can find the enemy's weapons, and having suddenly found them, he shall nimbly beat them back, and (in a manner) in the same instant force on a high thrust, with the increase of a pace of the right foot: from the which, if the enemy (for saving of himself) shall hastily and directly give backwards, he shall follow him, delivering presently the other high thrust behind, already lifted up. And this thrust will safely hit him and speed, because it is not possible that one may go so fast backwards, as an other may forwards.
Farther, aswell in this ward, as in others, the ward may be framed with the right foot before, and the right arm lifted, and so contrariwise. But because there is small force in this ward both in the feet and hands, which stand not commodiously either to strike or defend, and seeing that there is required in the handling of those weapons, great strength and steadfastness I have thought good, not to lay it down, as to small purpose.